Yoga Teacher Training in Rishikesh
Trying to find the best Yoga Teacher Training Rishikesh in India can feel like a daunting task. Don't you worry? Your search ends at Triguna Yoga, we are a home to some of the best Yoga teachers in India. We are determined to share our knowledge so that we can spread the benefits of Yoga throughout the globe.
Are you ready to join us today to take your yoga practice to the next level? Whether you're looking for a career change or want to learn the technique and philosophy behind it. Join our teaching programme today to pursue your career as a Yoga TTC in Rishikesh, and this is a very bright career as stress is at an all-time high among individuals. Yoga is a physical activity known to decrease stress, alleviate anxiety, fight depression, and improve the overall quality of your life.
Why it is a good idea to become a Yoga Teacher?
In recent times there has been a sudden increase in yoga students means there's an increasing demand for certified Yoga teachers, so in short, this is the best time to become a Yoga teacher. Yoga helps in cultivating happiness, self-love and brings spiritual growth and understanding. What are you waiting for? Contact Yoga Training In India to learn the concept of Yoga.
Book Your Spot YTTC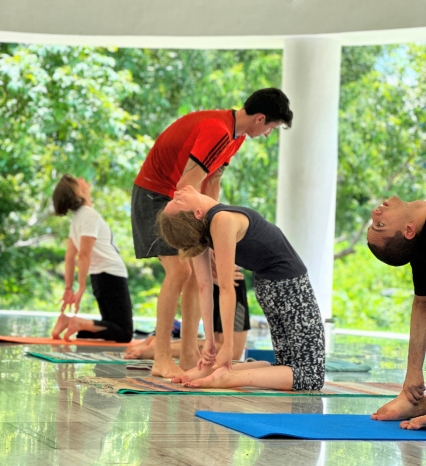 Taking Yoga Beyond
The Mat Training
When meditation is colourful, or colouring become meditation itself...it's so beautiful and easy.Triguna yoga is not just Yoga education, it is a life yoga ...
Read More