Triguna Yoga Meditation & Retreat in Rishikesh
We welcome you to learn and experience the Art of Meditation with us at Triguna Yoga. We guarantee you that you will find something new and get a deeper understanding of yourself. We are a team of passionate people that acts as a home to all seekers and aspirants of meditation from all around the globe. We work towards offering you the space, presence, and teachings to experience a deeper understanding of your surroundings. Meditation is nothing but putting your mind at peace, forgetting every worry for a while so that your brain can function effectively throughout the day.
We offer Meditation Teacher Training in Rishikesh and Goa. Word Meditation is not something new, and it is something that is always inside every human being. We work with you to bring tranquillity to your mind and body. We work towards providing a Meditation Retreat in Rishikesh and focus on the relationship between mind and body through yoga, meditation and breathing techniques. We help you learn techniques to learn how to heal emotionally, physically, and rationally.
We teach you Yoga in a very traditional way; with our course, you will learn about the functioning of different yoga asanas (postures) and how to practise them correctly. Our passionate teams focus more on the practice of asanas to boost our energy level and change our mental patterns.
Book Your Spot YTTC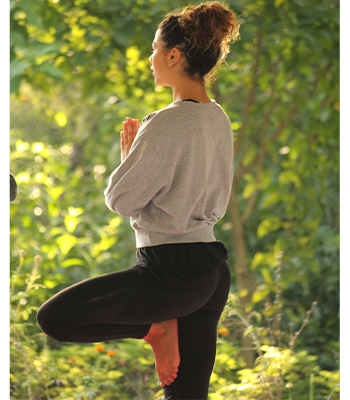 Taking Yoga Beyond
The Mat Training
When meditation is colourful, or colouring become meditation itself...it's so beautiful and easy.Triguna yoga is not just Yoga education, it is a life yoga ...
Read More