🧘 300 Hour Yoga Teacher Training in Rishikesh India
Yoga for Everyone
This 300 Hour Yoga Teacher Training is created for individuals with aspirations of becoming yoga teachers but is appropriate for any individual wishing to further expand their yoga practice.Come join this month long program devoted to traditional authentic teachings, deeper understanding of yoga and self healing through yoga. Whether you are a beginner or advanced in your practice, all yoga practitioners are welcome and encouraged to join this teacher training.
Join hundreds of students from all over the globe who have experienced Triguna Yoga's unique and engaging approach to teaching yoga.
Course Details
300 Hours Yoga Teacher Training Course
Duration: 2nd-30th
Language: English
Module: Residential with Meals
Level: Beginner, Intermediate & Advanced
Certification: Yoga Alliance
Style: Multi-style
Date: Mar 2nd to 30th, May 2nd to 30th,Oct 2nd to 30th & Nov 2nd to 30th
€1,390 Euro

(Triple Occupancy)

€1,530 Euro

(Double Occupancy)

€1,730 Euro

(Single Occupancy)
apply now
300hrs Yoga Teacher
Eligibility Criteria to join our 300hrs Yoga Teacher Training Course in India
If you are searching to advance your skills in yoga then you are at the right place at Triguna Yoga. In this 300 hrs Teacher Training we will guide you from beginning stages into advanced stages of the ancient styles of Yoga.

For those who completed a 200 hours Yoga Teacher training this teacher training course might be a unique chance to deepen your practice and learn a wider variety of Yogic teachings.
This 300 hours Yoga Teacher Training Course is for anyone from anywhere, with any background, nationality or religion.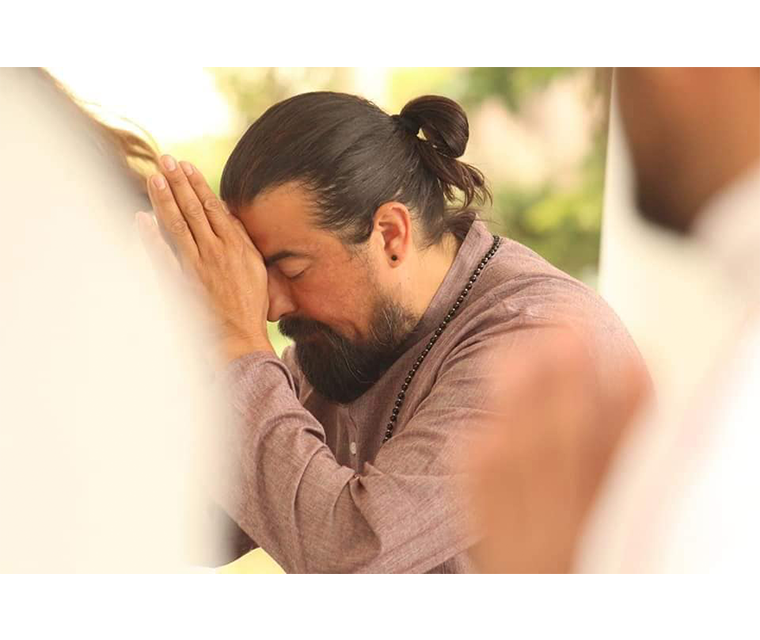 The medium of communication in this course is English, so it requires a certain amount of proficiency in the language to be able to handle and respond to the instructions and lectures. There are no educational requirements to join. As long as you come with an open mind and kind attitude you are most welcome to join.
The age of the candidate shouldn't be less than 18 or more than 60 at the time of admission.
300hrs Yoga Teacher

Training in India is suitable for
This Yoga Teacher Training Course is designed by the experienced Yoga Teachers of Triguna Yoga School. While making the outline of the course we went on putting a lot of emphasis on the needs of a beginner as well as the intermediate practitioner of Yoga.
So, this course not only guides the beginner towards their first step into the world of Yoga but at the same time helps the intermediate practitioner to move forward in their journey with clear directions.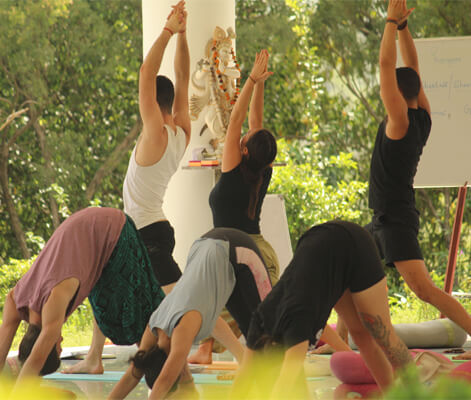 🧘 Which Style we teach at Triguna Yoga School in India? 🧘
The teacher training will cover traditional Hatha, Ashtanga and partly Vinyasa Yoga, pranayama, yoga philosophy/ethics/lifestyle, anatomy and physiology, teaching methodology, purification kriyas, mudras, mantras chanting, bhandas and meditation. Besides these main topics our team is also passionate about sharing with you the experience and teachings of
Naturopathy and five elements kriyas
Yoga Nidra (Level I, II and III)
Various yogic breathing techniques
Highlights
Yoga Nidra
Yogic cleansing
Yogic anatomy
Hatha & Ashtanga Yoga
Sufi breathing
Asana adjustment
Mantra meditation
28 nights accommodation
3 vegetarian meals daily
300-hour Yoga teacher certification
Training on communication skills and running your own Yoga workshop
Daily Schedule of 300 Hour Yoga Teacher Training
06:00 - 07:00 Am Shatkarma / Naturopathy cleansing

7:00-8:30 AmTraditional Hatha Yoga Practice

8:30-9:30 Am Pranayama & Mantra Chantings

9:30-11:00 AmBreakfast & Rest

11:00 - 12:00 PmYoga Philosophy

12:00- 1:00 PmYoga Alignment & Adjustment
1:00-3:00 Pmlunch break & rest

3:00-4:00 Pm Yoga Anatomy

4:00-4:30 PmHerbal tea break

4:30-6:00 pmAstanga Yoga practice

6:00-7:00 Pm Meditation / Emotional detoxification

7:00-8:00 Pm Dinner
WHAT MAKES THIS PROGRAM ONE OF A KIND
OPENING FIRE CEREMONY
We start this one month long yoga journey with a fire ceremony according to the traditional yogic culture.
DIRECT TEACHINGS FROM SINCERE EXPERIENCED TEACHERS
Triguna Yoga focuses on providing you with small, intimate class settings for individualized and personalized attention from their beloved teachers.
The teachers are not only rich in knowledge, they are teaching from their own experience in yoga, meditation and often strong sadhana Your classes are located in the same building as your accommodations, so teachers are easily accessible to you throughout the day.
IMPLEMENTATION IN MODERN LIFE STYLE
We have a team of experienced teachers who have learnt from Traditional Masters and Guru's who shared their teachings adapted to the modern person's needs and necessities.
DEEPER UNDERSTANDING OF ASANAS
Besides teaching yoga asanas you will also learn the effect of some asanas on mind patterns. This will enable you to change habits and certain mind patterns and help other people in your teachings.
NATUROPATHY AND EMOTIONAL DETOXIFICATION KRIYAS
Naturopathy is an additional part of the TTC. Emotional detoxification kriyas are other ways to detoxify the body and the effects of negative emotions.
It is a part of the training that is very effective and much loved and appreciated by former students.
YOGA AS AN ALTERNATIVE THERAPY
In the 300 hrs Yoga Training you will learn how to apply Yoga tools for therapeutic use
AYURVEDA AND ACUPRESSURE POINTS
The basic use of Ayurveda and Acupressure points is implemented in this advanced course
PRANAYAMA AND ANCIENT BREATHING TECHNIQUES
You will learn about the deeper meaning of the correct breathing techniques and develop knowledge about how you may use them in yoga asanas and how it can improve your life. Changing breathing patterns will effect mind patterns and bring balance in body and emotions.
AN INSPIRING AND WELCOMING COMMUNITY
Every teacher and staff member of Triguna Yoga is passionate and committed to providing the best possible experience for you. Triguna Yoga is a spiritual hub for knowledge seekers to grow and nourish their souls. It is a community built on love, enthusiasm, and a profound belief in the transformative powers of yoga
300 Hours Yoga Teacher Training Course Outline
YOGA POSTURES (ASANA)
Students will gain extensive knowledge on yoga postures and will increase their physical strength, inner strength and naturally their flexibility. Some asanas are connected to certain mind patterns and throughout the training this body/mind connection will get more clear in many ways.
There will be assistance with the asanas and space for alignment. The focus is on Hatha Yoga and partly on Ashtanga Yoga. There will be some Vinyasa Yoga Classes as well
During the 300 hours course you will learn 84 traditional and dynamic Hatha yoga asana poses as well as a minimum of 40 Ashtanga poses.
PRANAYAMA (ANCIENT BREATHING TECHNIQUE)
Pranayama is an ancient yogic breathing technique that is used as preparation for meditation and is a vital aspect of practising yoga. It improves the respiratory system and purifies the body and mind. Pranayama topics include an introduction, aspects of pranayama, different types of prana and types of yogic breathing.
Nadi Shodhana (alternate nostril breathing)
Ujjayi (the psychic or victorious breath)
Shitkari (hissing breath)
Sheetali (cooling breath)
Kapalabhati (frontal brain cleansing breath)
Bhramari (humming bee breath)
Bhastrika (bellows breath)
Suryabheda (vitality stimulating breath) including advance variations.
RECITATION OF SACRED SOUND (MANTRA CHANTING)
The purpose of mantra chanting in yoga is to generate vibrations and connect with the universe. Each mantra has it's unique vibration.
Pratah Smarana (morning prayer)
Ratri Smarana (evening prayer)
Swadhyaya Prarthana (study prayer)
Maha-mrtyunjaya mantra and gayatri mantra
AUM chantings
Shiva chantings
Ganesha chanting
Mantras for Chakras
MUDRAS (GESTURES)
The practice of mudra is an ancient facet of yoga. Performing gestures effects the energy flow of the body and can change a person's spiritual and mental characteristics.
Jnana mudra
Chin mudra
Yoni mudra
Bhairava mudra
Shambhavi mudra
Khechari mudra
Khechari mudra
Asvini mudra
Bhairavi mudra
Dhyan mudra
Apaan mudra
Samaan mudra
Vayu mudra
EMOTIONAL DETOXIFICATION kriyas
Emotional detoxification kriyas is a combination of removing knots in the body through pressing points, breathing techniques, release through sound and laughter and meditation. It is a three day program and very effective to release the effect of emotions and other toxins in the body.
Body points
Treatment Structure
Theory & Lecture
Bhairava mudra
Treatment Practice
Relationship between emotional accumulation in body and thought pattern
MEDITATION (DHYANA)
Meditation is a systematic practice that promotes physical, mental, and emotional tranquillity. It increases the vital energy in the body and gives you more aliveness, good blood circulation and a relaxed nervous system.
Breathing awareness meditation
AUM (Om) or mantra meditation
Trataka
Tips for developing concentration
Silence practice
Cathartic meditation
Kundalini meditation
Chakra meditation
Sufi Meditation
Dance meditation
TEACHING METHODOLOGY
A yoga teacher should efficiently perform the practical applications of class planning and preparation. At Triguna Yoga, students will learn how to create a positive and peaceful class environment for an enjoyable and transformative experience. You will learn:
How to plan and structure a yoga asana class
Principles of demonstration
Qualities of a teacher and teaching styles
How to use the breath and voice while teaching
Observing, assisting and correcting
Verbal cues
Functional modifications, injuries and safety precautions
Guidelines for each asana (as per manual)
Assisting inversions
TEACHING PRACTICE (ADHYAPANAM)
Students will take turns practicing their teaching skills by performing in front of their peers and teachers. There will be demonstration, alignment, and instructions.You will learn:
Symptoms of a good teacher
Clear instruction
Demonstration
Proper alignment
Individual care of each student
ANATOMY AND PHYSIOLOGY (SHARIR VIJNAN)
Proper understanding of the physical body will help to prevent injury before, during, and after practice.
Physical anatomy and physiology (bodily systems, organs, etc.) and energy anatomy and physiology (chakras, nadis, etc). Includes both the study of the subject and application of its principles to yoga practice (benefits, contraindications, healthy movement patterns).
Practical anatomy with a major emphasis on muscular and skeletal structures and in-depth study of anatomical and skeletal differences (i.e. compression, tension, and proportion and orientation theory)
Introduction to different body systems
Proper alignment
Skeletal system, muscular system, connective tissue, nervous system, major kriya of the body, digestive system, endocrine system, circulatory system
Breathing and respiratory system
Practical applications of anatomy into postures
Therapeutic applications of postures and working with injuries in asana class
PHILOSOPHY (YOGA DARSHANA)
Yoga philosophy is the foundation of our yoga practice and is the key to earn yogic strength. Through the path of yogic philosophy, you will establish a solid, well-rounded yoga practice.
Meaning of yoga, concepts, history
Four paths of yoga (Jnana, Raja, Bhakti, Karma Yoga)
Ashtanga Yoga & Hatha Yoga
Prana (bioplasmic energy)
The chakra system, its qualities, activating and balancing techniques
Energy or nadi system
Meditation: introduction, practices, meditation and mind, removal of mental problems
Guru and disciple relationship
Kriya Yoga
Five types of bodies (sheaths or koshas)
Patanjali Yoga Sutras
Bhagavat Gita
Hath Yoga Pradipica
YOGA NIDRA (PSYCHIC SLEEP)
When a yoga practitioner moves through the various internal states of Yoga Nidra, a profound experience of relaxation occurs. This is called "turiya," a sensation of pure bliss. This will cover basic relaxation, tension relaxation, and full body relaxation
In this 300 hrs Yoga Teacher Training Course at Triguna Yoga you will practice all levels of Yoga Nidra as we divide this proces into beginner, intermediate and advanced practices (Level I, II and III). In Yoga Nidra advanced practices you will learn to guide your body/mind into a certain rythm.